Disaster Recovery Specialist
Spatial Collect is a results-driven company with remarkable success in the civil construction industry for over 30 years. We have developed efficient methods, equipment, and many other aspects of construction and development for local government.
Driven by Innovation
Spatial Collect's innovative work has been taken to a new level by developing Lidar and GIS systems for accurate and effective asset management of roads. Recently Spatial Collect developed a software solution called Road Recon. Road Recon is an innovative software solution for rapid assessment of road condition which accumulates into quick transitions from pickup to finalized scoping (refer https://www.spatialcollect.com.au/roadrecon/)
Experience 
Over a 9 year period Andrew was responsible for asset management services for a Townsville based Project Management Company. During this period Andrew has developed rapid collection, assessment, and submission process's for disaster recovery funding arrangement programs. Shortened time frames from Disaster to Submission by 50% from previous claims processes. Andrew has been entrusted to deliver DRFA-funded outcomes for restoration works in North Queensland in excess of AUD$250 million during this period.
Procurement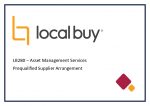 Spatial Collect can be easily procured by Local Government under the Local Buy panel for Asset Management Services.